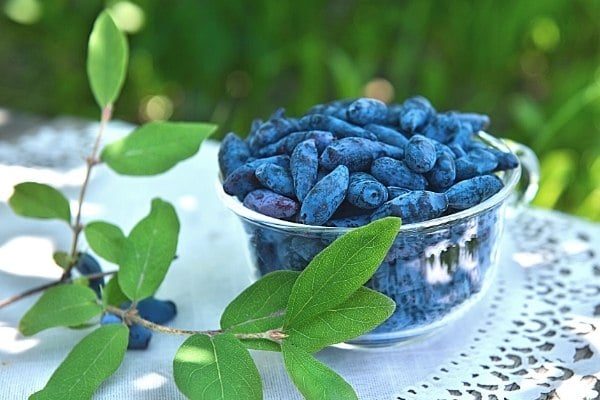 Food
How to Identify the Best Haskap Berries?
On September 28, 2023 by Rana Madanat
Haskap berries are a unique and delicious fruit known for its distinctive flavor and numerous health benefits. When selecting Haskap berries, it's important to know how to identify the best ones to ensure you enjoy their sweet-tart goodness to the fullest. Here are some tips to help you pick the finest Haskap berries:
Color:

The color of Haskap berries is a reliable indicator of their ripeness. Look for berries that have a deep and vibrant purple or blue hue, depending on the variety. Avoid berries that are still green or pale in color, as they may not be fully ripe and could taste underwhelming.
Firmness:

Gently press the berries with your fingers. The best Haskap berries should be firm but not rock-hard. Avoid berries that feel mushy or overly soft, as they may be overripe and have a less appealing texture.
Uniform Size:

Choose berries that are uniform in size. This indicates that they have matured evenly and are likely to have a consistent taste. Avoid berries with significant size variations, as they may have different levels of ripeness.
Shine:

Quality Haskap berries should have a natural sheen or gloss on their skin. This indicates that they are fresh and have not been sitting around for an extended period. Dull or matte berries may have lost some of their freshness.
No Blemishes:

Examine the berries closely for any signs of blemishes, bruises, or mold. High-quality Haskap berries should be free from any visible imperfections. Damaged or spoiled berries can affect the taste and overall quality of your berry experience.
Taste Test:

If you have the opportunity, taste a berry before purchasing a larger quantity. Haskap berries have a unique sweet-tart flavor, and individual preferences may vary. Sampling allows you to ensure that you enjoy the taste before committing to a larger purchase.
Fragrance:

Haskap berries should have a pleasant and fruity fragrance. Take a moment to sniff the berries; they should emit a fresh and inviting aroma.
Source:

Whenever possible, try to purchase Haskap berries from reputable sources, such as

Canada Haskap Producers

or trusted grocery stores. These sources are more likely to provide fresh, high-quality berries.
Selecting the best Haskap berries is a rewarding experience that ensures you get the most flavorful fruit. By considering the above factors, you can make informed choices when purchasing Haskap berries. These tips will help you savor the sweet-tart delight of Haskap berries at their peak of perfection.
Advertisement