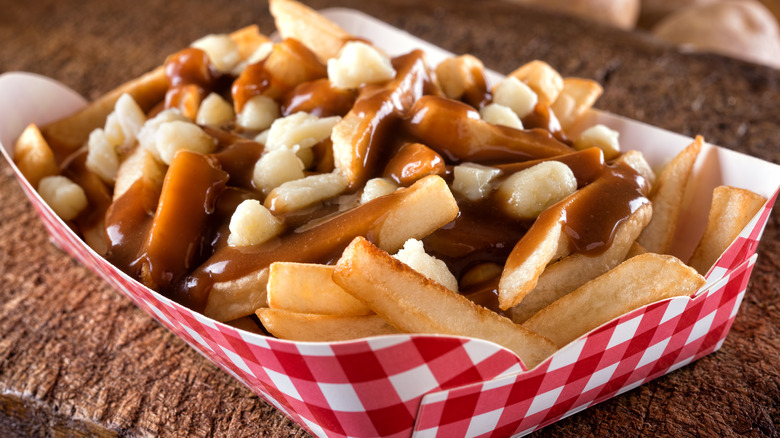 Food
Types Of Poutines You Must Try!
On May 5, 2022 by Natalia Harvey
Fries by their own are appetizing enough! What if these delicious and crunchy slices of fried potatoes were topped with cheese curds and gravy? Makes you drool, doesn't it?
In the 1950's, someone invented a dish called Poutine in the Quebec and gave the world something delectable!
Poutines can form a part of main course or serve as a side dish. Traditionally, Poutines were constrained to one single recipe; but today as the world changes; poutines do too! The texture, temperature, and viscosity of ingredients are constantly changing, making it a dish of dynamic contrasts. The quality and superiority of poutines is decided by the crisp of the fries, freshness of the curd and the gravy that blends. Even minor variations like difference in oil, origin of the curds, or spices in the gravy can bring about distinct and unique flavors.
Here we shall talk about five widely liked poutines –
1] General Tao
Crisp fried chicken nuggets, aromatic grilled sesame seeds, crunchy shallots all topping fries encrusted with a flavorful secret sauce! Sounds mouthwatering, doesn't it?
2] The Volodymyr
There will hardly be a person who doesn't like cheese. The Volodymyr is a classic poutine recipe that puts together Delicious Belgian fries, St. Guillaume cheese, and the traditional brown gravy, which allows all the fries to be coated. The temperature and timing are two important things to look at when preparing the Volodymyr.
3] The Mexican
The Mexican poutine is something one would order in a deli. It gives you the feeling of an Italian dish since it has red onions, spicy homemade salsa, and fresh and crisp coriander complementing the crunchy fries.
4] The Montrealer
If you are a fan of smoked meat and pickle; the Montrealer should be something you try. In the Montrealer poutine, the fries are garnished with potholes and orange cones making it luscious dish.
5] Pulled pork
Fries combined with pork make a heavenly appetizer. A homemade maple BBQ sauce, pulled pork and grilled red onions furnish a trendy poutine recipe which is liked by many.
Bushwater, Tunisian, Viennese, Ginette, fries so, baconsoucisse are a few other poutine dishes. Not every place can offer you this wide range of poutines while maintaining the authenticity of the recipe. Frite Alors poutine restaurant has these and many more tempting dishes for you! So, what are you waiting for? Place your order or visit them today!
Advertisement