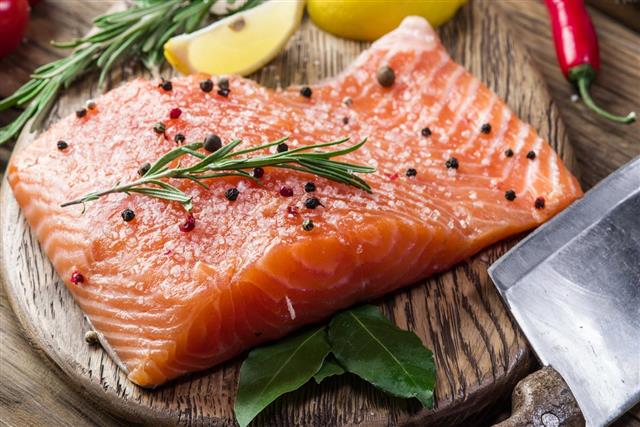 Food
The mouth-watering, Salmon
On December 3, 2021 by Tyrell Veum
Grilled salmon, garlic butter baked salmon, roasted salmon, salmon sushi roll! Don't all these make you want to smack your lips?
Salmon is a popular fish loaded with nutrients. The specie is native to North Atlantic and Pacific Ocean.
Eating too much salmon can cause health issues, and farmed salmon sometimes contain high levels of dioxins, which can be considered dangerous. Therefore, a healthy salmon option is organic salmon.
An organic salmon is fed with organic sources. Salmon are generally fed with wild fish, so using the term organic with it gets perplexing. Organic salmon can be said to exist in minimal or low pollution areas.
The flesh of salmon is generally red or orange but rare cases of white and black skin are found. For consumption, salmon can be baked, smoked, poached, steamed, grilled, and so much more.
Let's now discuss a few benefits of Salmon:
▪ Great source of protein
Not only is salmon delicious but it also is a great source of protein. Protein helps with body healing after injuries, maintains muscles, and protects bone health. A 100-gram salmon consists of 22 to 25 grams of protein.
▪ Rich in omega 3 fatty acids
Omega 3 fats are not created naturally in the body hence their intake becomes a necessity. Salmon is said to be rich in the omega 3 fatty acids. These are believed to maintain blood pressure, reduce risk of cancer, decrease inflammation and risk factors for diseases.
▪ May reduce risk of heart disease
Salmon consumption on every day basis can reduce the risk of heart disease. If the omega acids balance is lost, it increases risk for heart diseases. Since salmon boosts the level of omega 3 acids, this risk is reduced.
▪ Manages weight
Salmon consumption can reduce appetite, boost your metabolism, and increase insulin sensitivity all leading to proper management of weight.
Few other benefits include-
It is an excellent source of vitamin c, good source of potassium, is loaded with selenium which improves thyroid function and protects against cancer.
Salmon also helps fight inflammation, and contains Astaxanthin (antioxidant benefitting heart, nervous system, brain and skin).
Conclusion
Salmon is undeniably appetizing. It has a flavor distinct from the other fish. It is a nutritional powerhouse, versatile, and satisfying. The Papa Earth wild caught salmon is deep red in tone, with a rich flavor and firm texture. If munching on organic salmon, this would be the right place to get it.
Advertisement