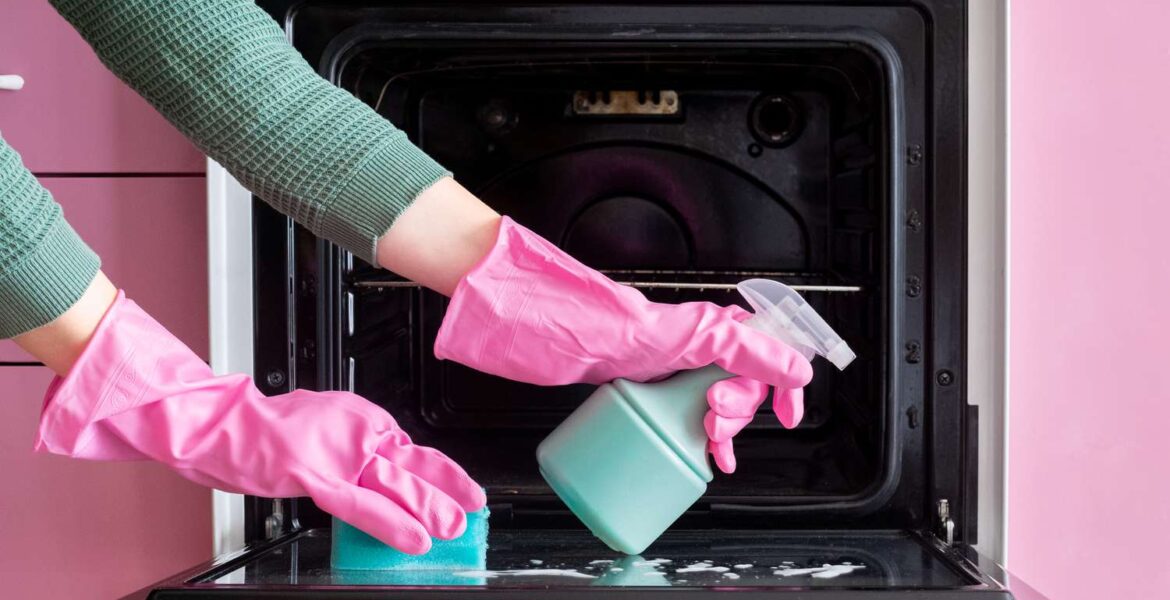 Food
A Sparkling Guide to Oven Cleaning Made Easy
On September 24, 2023 by Darrin
Our trusted cooking companion, the kitchen oven, often needs a little care. Over time, grease, food spills, and baked-on grime can accumulate, affecting its performance and appearance. Fear not! Cleaning your oven doesn't have to be a difficult task. In this guide, we'll learn more about cleaning ovens into simple steps that anyone can follow. With patience and the right approach, your oven will look and smell fresh in no time.
Step 1: Gather Your Supplies
Before getting into the cleaning process, it's essential to gather the necessary supplies. Here's what you'll need:
– Rubber gloves
– Oven cleaner (commercial or homemade)
– Baking soda
– Vinegar
– A bowl or container
– A scrubbing brush or sponge
– Old towels or rags
– Plastic or paper bags
– Water and a spray bottle
Step 2: Safety First
Remember to prioritize safety when cleaning your oven. Always wear rubber gloves to protect your hands from chemicals and grime. Ensure the kitchen is well-ventilated by opening windows or using a fan to disperse any fumes from cleaning products.
Step 3: Preparing the Oven
Start by removing the oven racks, trays, and any loose items inside the oven. This will make it easier to access the interior surfaces. If your oven has a self-cleaning function, consider running it beforehand to burn off some of the built-up residue, making cleaning more manageable.
Step 4: Homemade Oven Cleaner
If you prefer a more natural approach, create a homemade oven cleaner by mixing baking soda and water to form a paste. Apply this paste to the interior surfaces of the oven, avoiding the heating elements. Let it sit overnight or for at least 12 hours to break down grease and grime.
Step 5: Commercial Oven Cleaner
For a quicker solution, opt for a commercial oven cleaner. Follow the manufacturer's instructions carefully. Typically, you'll need to spray the cleaner evenly inside the oven and leave it to work for a specified time, usually around 15-30 minutes.
Step 6: Scrubbing
After the cleaner has had time to work its magic, it's time to roll up your sleeves and start scrubbing. Use a scrubbing brush or sponge to remove the loosened dirt and grime. Pay extra attention to stubborn spots. If you feel, repeat the process until you're satisfied with the results.
Step 7: Oven Racks
While you're cleaning the oven, remember the racks and trays you removed earlier. Clean them separately in a sink or bathtub. Soak them in hot, soapy water or use baking soda and vinegar. Scrub any remaining residue, rinse thoroughly, and let them dry before placing them back in the oven.
Step 8: Wipe Down
With the inside of the oven and the racks sparkling clean, it's time to wipe down the surfaces with a damp cloth or sponge to remove any remaining cleaner or residue. Be thorough to ensure no chemical residues are left behind.
Step 9: Final Touch
Place a bowl of water with a few slices of lemon inside the oven to eliminate any remaining odors or traces of cleaning products. Turn the oven on at a low temperature (around 250°F or 120°C) for 30 minutes. The steam from the water and the lemon will freshen up the oven's interior.
Step 10: Exterior and Control Panel
Remember to clean the exterior and control panel of your oven. Use a damp cloth with a mild detergent to wipe away any marks or spills—Polish stainless steel surfaces with a specialized stainless steel cleaner for a shiny finish.
Step 11: Regular Maintenance
To keep your oven in top condition, promptly wipe up spills and crumbs after each use. Regularly clean the oven racks and interior to prevent excessive buildup. This way, you'll enjoy a clean and efficient oven every time you cook.
Wrap up
Cleaning your oven doesn't have to be a problematic chore. You can easily maintain a clean and efficient appliance by learning more and following a systematic approach. Regular oven cleaning enhances its performance and ensures your culinary creations are free from unwanted odors and flavors. So, roll up your sleeves and let your oven shine!
Advertisement